THE CUSTOMER :

Medi 1 TV is a Moroccan private broadcaster focused on news information and created in December 2006. It broadcasts its programs from Tangier, 24 hours a day and 7 days a week.
It was launched in December 2006 as a news channel but has since shifted to more general programming in French and Arabic. Medi 1 TV is particularly interested in Maghreb regional news.
THE PROJECT :

The goal of the project was to modernize the playout centre of Medi 1 TV by a complete change of equipment and software.
In July 2011, the partnership between Medi 1 TV & MBT begins with the temporary installation of a simplified Phoenix Playout Automation software suite allowing Medi 1 to switch between their 2 channels and broadcast different programs during the Ramadan period.
Sometime afterwards, Medi 1 TV announces the intention to renew its production and playout systems. In 2015, the project begins and Medi 1 TV chooses the company DALET for its production and media asset management system and MBT for its ingest and playout automation system. Medi1 TV relies on Videlio as system integrator to ensure the proper functioning of all of the selected (sub-) systems.
Even if the production and the playout are 2 different projects, both environments are intimately linked by the presence of the MAM and the fact that the MAM is asked to send media, among other things, to the video servers.
Medi 1 TV's final choice for the video servers is the Spectrum ChannelPort of the company Harmonic offering the ability to deliver video content together with subtitles and dynamic branding.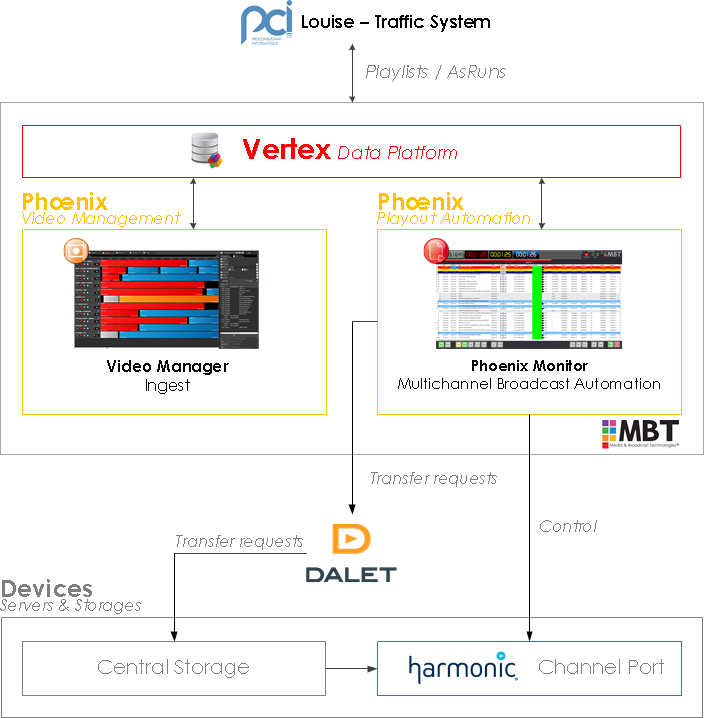 Diagram Architecture Medi 1 TV
The playlist of every channel, issued daily by the traffic system Louise from the company Proconsultant, is interpreted by the MBT playlist import module. This tool allows to make the delta between the programmed elements and those present on the video servers. The missing elements are requested to the DALET system via XML files. The DALET system then transfers the items from the central storage to the video servers. For each requested item, a notification is sent to the MBT broadcast automation system to inform the exploitation of their status.
MBT also implemented its module for automatic ingest so live programs can be recorded for the purpose of future replay. The recorded elements are checked via a client of the ingest system, the Phoenix Video Manager, where information like TC-in and TC-out and their status (PAD/NPAD) can be entered. A notification is sent to DALET who archives the recorded live in the central storage.
As for every automation system, daily asrun logs are generated and sent to Louise so they can be reconciled.
The broadcast automation system is completely redundant. A main and a backup automation have been implemented for two channels (2 x 2). All the software is duplicated as well as the equipment.
Since December 2016, Medi1 TV is On Air with MBT's playout automation system, Phoenix.