FAST, for "Free Ad-supported Streaming TV", is an extension of classical linear television, but distributed exclusively to Internet connected devices.
These channels primarily address an audience that usually watch television and also like to watch again programs, films and series already broadcast before.
FAST channels have experienced a very fast growth for four years.
In the United States, a wide audience chooses FAST platforms rather than cable or satellite TV platforms (see further some figures published on the main channels).
Therefore we have seen the birth, for more than 10 years, of numerous streaming platforms of FAST channels: Pluto TV, Xumo, Tubi, Peacock, The Roku Channel, IMDBTV and Samsung TV+.
The multiplicity of streaming platforms over the last years has led to
The multiplicity of streaming platforms in recent years has led to choice fatigue among consumers, who are now looking for a passive viewing experience with no subscription fees.
No dedicated installation
More than 20 FAST service providers are accounted in the United States today, with more than 1000 channels.
The adoption of FAST channels is fast because the service is free and does not require a dedicated installation. These channels provide a wide range of linear and on-demand content.
This is therefore a convenient replacement for traditional pay TV with hundreds of free channels accessible 24/7.
FAST begins to be seen as a successful evolution of linear television.
One might think that FAST is the same thing as AVOD (ad-supported VOD), but the difference is in the distribution of the content.
Indeed FAST channels, unlike VOD, target the content offered according to the user's profile. This makes it possible to build a large volume subscriber base, and thus offer an improved and personalized user experience.
One can distinguish two kinds of FAST channels:
Catalog holder niche channels;

Branded channels from channel editors that typically feature content related to their products.
Phoenix FAST Suite & Scooty : ad-signaling software and FAST channels
The future of FAST is bright because it allows to target audiences and give media distributors a golden opportunity to generate new revenue streams.
As early as 2018, MBT bet on advertising targeting systems. Our Scooty software, specialized in advertising targeting management, has been available for 5 years.
It is therefore natural that MBT continues to invest in these new concepts.
The "Phoenix FAST Suite" concept implemented by MBT consists of its Phoenix V4 software suite associated with automated operating workflows (intelligent auto link, auto-adaptive transfer and purge to the storage in place, interface with the most common broadcast equipment, active supervision) and the Scooty ad targeting management software.
All that with minimum integration (all is virtualized, no control room installation required).
Phoenix V4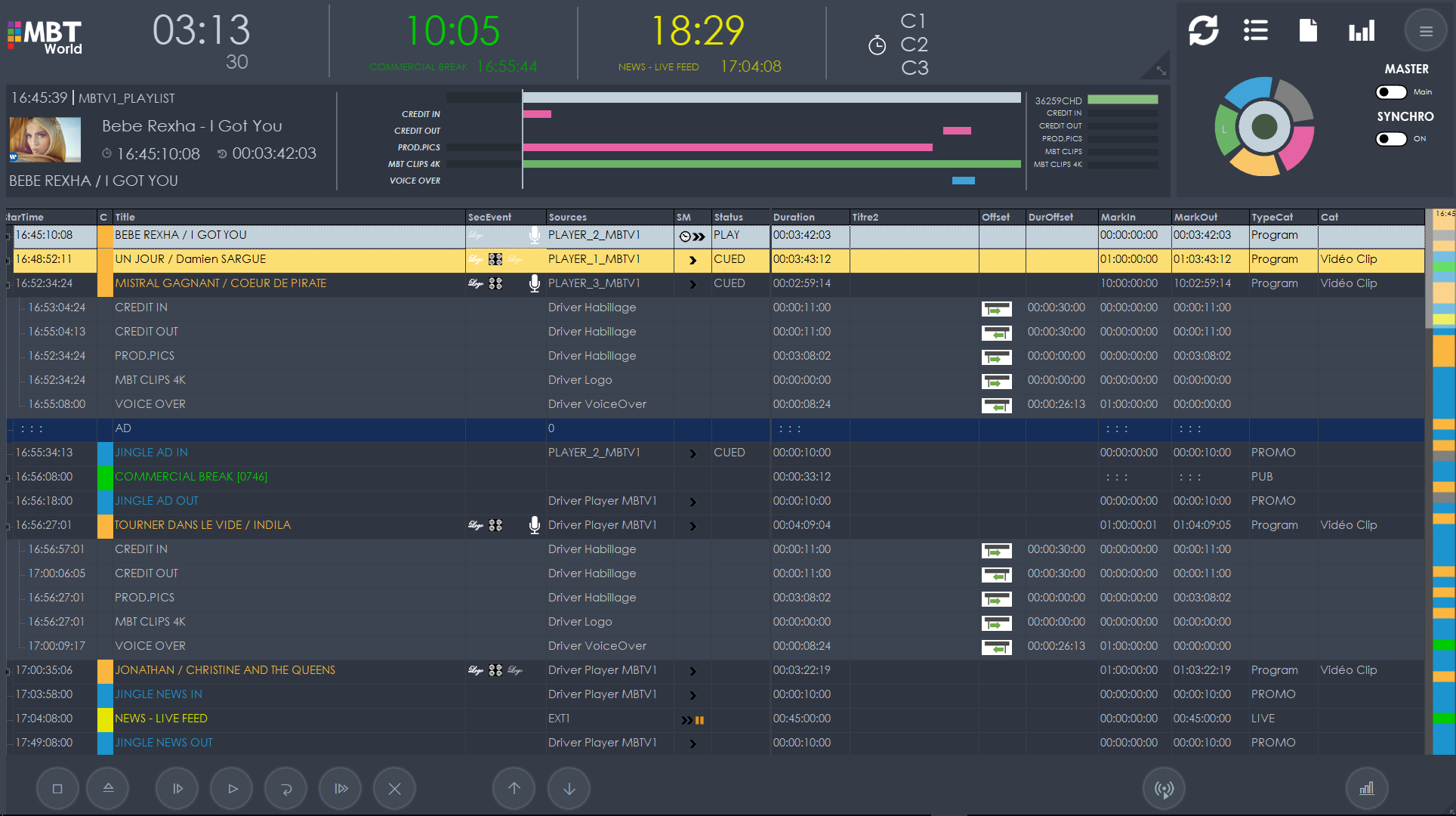 Running
Multichannel broadcasting operation and supervision system.
This new generation of broadcast automation systematically processes all the defined workflows. More than a step by step sequencer, the system is a true playout workflow manager, providing the operator a really comfortable multiple or single channel environment. Users can benefit a unique user experience.