THE CUSTOMER :

Eurovision Production Coordination (EPC) is the European Broadcasting Union (EBU) subsidiary in charge of:
Host broadcasting
Broadcast services
Content creation
Corporate communication
EPC has extensive market expertise, and offers international organizations, sports federations and broadcasters a full range of tailor-made production services that ensure successful worldwide media coverage of all major events.
PROJECT :

In 2013, on the occasion of the World Championship of Athletics in Moscow, MBT adapted their Digital Asset Management System, Sphere, for the account of EPC and created an application to log live events. Experienced sports loggers used the Sphere Advanced logging system to log up to 3,000 events for each day of this World Championship.
In 2015, Media & Broadcast Technologies (MBT) supplied EPC and ISB with their advanced logging and recording system for the 2015 1st European Games at Baku. The system was also used to log the World Championship of Swimming in Kazan (2015).
The 2015 European Games were the inaugural edition of the European Games, an international multi-sport event for athletes representing the National Olympic Committees (NOCs) of Europe. It took place in Baku, Azerbaijan, from 12 to 28 June 2015 and featured almost 6.000 athletes from 50 countries competing in 20 sports.
With MBT's logging and recording system together with SAM's Enterprise sQ system, 2.000 hours of footage and a total of approximately 200.000 loglines has been recorded and made available for the account of EPC and ISB.
The Sphere Advanced Logging system is part of the Sphere Digital Asset Management Suite and can therefore be extended to complete archive workflows.
How does it work ?
As soon as ingest has started, through the Phoenix Record System, the logging operators use the logging application to locate points of interest and add pre-sets or freeform metadata via the selected template. Users may create 'collections' of logs, using different templates for different events, like track and field in athletics, or heats and finals in a contest. The logging system stores all metadata in its own database.
The Web Client is then used to search on indexed information and browse the corresponding media. It allows also creating segments on the desktop of the editing station by a simple drag&drop.
At Baku every day from 8AM until 1AM the day after, a masterclip was recorded using Phoenix Record system controlling 18 HDSDI ports from Quantel's sQ server. Logging of the events has been done via 15 stations with MBT's template based logging tool, with dedicated graphical interfaces, the so called "collections", configurable for each of the (sub-) events. MBT also developed an ODF interface (Olympic Data Feed). Thanks to the ODF interface, the start list of the athletes for every (sub-)event was automatically available.
Having all the keywords, markers and names of the athletes instantly on your screen for every (sub) event, makes logging really intuitive and easy.
MULTI-DELIVERY
In Moscow, in 2013 it was used to produce 50 minute highlights packages every day for the IAAF broadcasting partners.
International Sports Broadcasting (ISB), host broadcaster at the Baku 2015 First European Games, used the system for the international delivery to 52 rights-holding organizations, and selected our customer, Eurovision Production Coordination (EPC), as a technical partner for this multi-sport event.
MBT built on the SAM QTube API and sQ Fileflow to produce an advanced logging, post-production and automated file-delivery workflow. The fully-integrated solution allowed users to search the highlights database and deliver selected source media to post production editors with zero waiting time.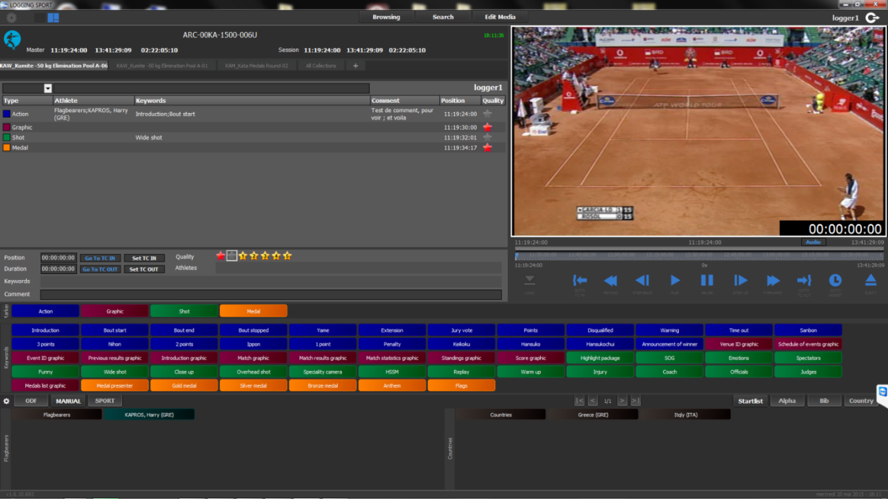 Sphere Logging Module